Embroidery Designs are from
The Fanciful Garden, The Fanciful Garden II, Vases of Love, Tropical Flowers, and Wildflowers collections.

 

Hatred starts fights,
but love pulls a quilt over the bickering.
Proverbs 10:12 The Message 
 Materials needed:
Background Fabrics that totals 6 yards. Mine were 6 different black on black fabrics.
You should have fabrics acceptable for appliqué and 9 patches that total around 5 yards. I used 10 different coordinating fabrics.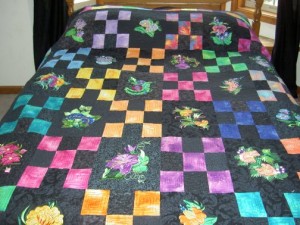 1. The finished size of all blocks will be 9"x12". However you should always start with larger blocks before you embroider and then cut them to size. Embroidery will pull some and change the size of your block. I started with 15" blocks then after embroidery cut them into 9 1/2"x12 1/2" and they were much more accurate. You will need a total of 18 appliqué blocks.
2. Next cut several background strips 3 1/2" x the width of fabric.
3. Then cut them into 3 1/2"x4 1/2" rectangles. You will need 71 for the blocks alone. I also used it for my inner border which required another 71 background rectangles.
4. Do the same with the colored focal fabrics. You will need a total of 90 focal fabric 3 1/2"x4 1/2" rectangles. You will have a total of 18 nine patch blocks so divide your colors accordingly. You will need another 76 3 1/2"x4 1/2" rectangles for the border.
5. The final border strip was 6 1/2 x the length of your quilt two times and the width two times.

6. Now that every thing is cut. And your embroidery blocks are completed. It is time to put your nine patches together.
| | |
| --- | --- |
|   | 7. Lay out your focal fabric in 5 stacks leaving room for your black rectangles and keeping the like colors at the same place in each stack. |
 8. On the background stacks alternate the different background fabrics so not all four are the same and they should be in different positions on every block.

9. Sew in your favorite order that you find easiest to not to get confused.

10. I sew all of the top left to the top middle assembly line style keeping them attached to each other then adding the right top to the coordinating pairs.

11. Do the same for the second row then the third. 
 12. Then sew each row together to form blocks.
| | |
| --- | --- |
|   | 13. Alternate nine patch blocks with appliqué blocks in the order you like.  |
14. 6 Blocks across and 6 blocks down.
15. Sew remaining background blocks and focal fabric blocks end to end for form borders.
16. Quilt it, Bind it and it is done.