Make a 50.00 Gifts on a 10.00 Budget
 All you need to do for that gift to go in a hurry!
Step 1) For this project you'll need an Apron without a pocket preferably. and 5 coordinating inexpensive towel sets. Keep it cheap! You're going to make it look expensive!
Step 2) Simply fold one of the kitchen towels in half long length right sides together. Sew down both outside edges, and across the bottom leaving an opening to turn. Clip corners and turn right side out. Then press
Step 3) Then place on the the kitchen towel that you sewed, on the apron where you would like your pockets. This is roughly 12 inches from the bottom, but may very. You will want to use your judgment as this varies from apron to apron. Be sure to center horizontally.
Step 4) Top stitch into place and divide into thirds doing a single stitch to divide the pockets. Be sure to back stitch or tack at the top of each pocket.
Step 5) A great idea is to use the On the Farm Collection and place the sunrise pocket topper above the pockets.
Step 6) You might want to add a nice accent to the hand towels. I took some loose woven inexpensive napkins made from homespun; other fabrics like osnaburg fabric or flannel would do. Do a tight top stitch about a half in around the edge. Then pull out the weave to fray the edges.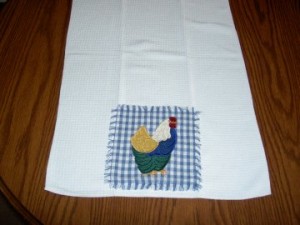 6) These our quick gifts on a cheap budget. But they look like you spent a lot! Add some old wooden spoons for a nice touch. It works!!!